IOW Tomato Mixed Seed and Cream Cheese Bread
A scrumptious recipe that is worth taking the time over and utterly delicious with Paysan cheese!
100 Minutes
Serves 8
Vegetarian
Ingredients
You'll need:
200g Isle of Wight Tomatoes
50g oats
50g mixed seeds
100g plain flour
100g wholemeal flour
1 tsp oregano
2 tsp baking powder
¼ tsp bicarbonate of soda
2 eggs
80ml sunflower oil or vegetable oil
80g plain yoghurt
60g grated cheddar cheese
60g cream cheese, we used Paysan Breton French garlic and herb cream cheese
Salt & pepper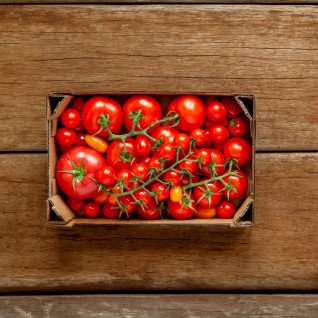 Method
Chop the tomatoes into bite sized pieces. In a large bowl, combine the oats, seeds, flours, oregano, baking powder, bicarbonate of soda and mix to combine. In a separate bowl whisk together the eggs, oil and yoghurt and grated cheddar.
Put the tomatoes and the wet ingredients in the bowl with the dry ingredients and mix to combine. Add the cream cheese in small spoonful's and swirl through gently, aiming to keep the cream cheese intact. Pour the mixture into the tin (sprinkle with a few more seeds and a little grated cheese, if you like). Preheat the oven to 180 Degrees, and then bake for 1 hour and 20 minutes.