IOW Spanish Beans
Great as a side or a main, we think the smoky paprika with the sweetness of our tomatoes is delicious.
40 Minutes
Serves 4
Vegan
Ingredients
You'll need:
1 tablespoon extra-virgin olive oil
1 onion, diced
3 garlic cloves, finely chopped
1 teaspoon hot smoked paprika
2 bay leaves
1 can butter beans 400ml/14oz, drained and rinsed
600g chopped Isle of Wight tomatoes
Sea salt and black pepper
2 large handfuls spinach, rinsed and roughly chopped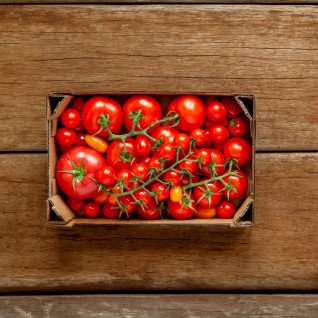 Method
In a large saucepan, heat the oil over a medium heat. Add the onions and fry, stirring continuously, for 3-5 minutes until soft but not browned.
Add the garlic, paprika and bay leaves and fry for a further minute. Add the chopped tomatoes and season with salt and pepper. Stir well and reduce the heat to low. Simmer for 15 minutes. Add the beans and spinach and stir through until piping hot.