Mozzarella and sundried tomato stuffed Aubergine on a bed of passata sauce
Bringing restaurant quality food home to your kitchen!
Ingredients
Aubergine- 2 round slices cut 1cm thick
2 sun-dried tomatoes
125g Laverstoke Buffalo Mozzarella ball
50g plain flour
1 large egg- whisked
100g parmesan (finely grated)
150g panko breadcrumbs
Tomato Stall Passata
Extra Virgin Olive Oil- for frying
Salt, pepper or your favourite herbs- season to taste
1 large tomato- finely chopped (for garnish)
Basil (optional for garnish)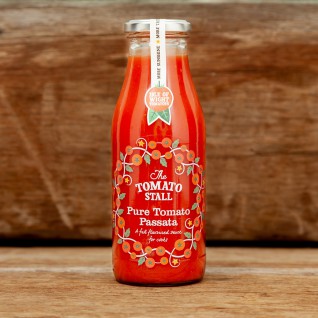 Method
Preheat oven to 180°C.
Slice the aubergine widthways 1cm thick. Season the aubergine with salt and pepper and leave for a few minutes. After this time, pat dry. Roast in the oven for 10 minutes. Allow to cool.
Season the cooked aubergine with your favourite herbs or pesto on one side.
Slice the Laverstoke Buffalo Mozzarella 1cm thick and lay on one piece of the cooked aubergine.
Add the sun-dried tomatoes on top of the mozzarella. Cover with the other piece of aubergine so you have a sandwich.
Whisk the egg in a bowl. Add flour to separate bowl. Using an additional bowl, mix breadcrumbs with the finely grated parmesan.
Coat the stuffed aubergine in the plain flour, shake excess and place it in egg wash mix until all is covered. Next place in the breadcrumb mix until fully coated.
Pan fry with a little olive oil over medium heat until golden brown on each side.
Serve on a bed of passata, sprinkle with chopped tomato to garnish.