Isle of Wight Spiced Aubergine and Tomatoes with Yogurt
A warming, hearty dish.
70 Minutes
Serves 4
Vegetarian
Ingredients
2 aubergines , quartered lengthways
olive oil
2 red onions, finely chopped
1 garlic clove, crushed
1 red chilli, chopped
1/2 tsp ground coriander seeds
1/2 tsp ground cumin seeds
1/2 tsp cayenne pepper
1 tbsp tomato purée
400g fresh Isle of Wight chopped tomatoes
100ml water
300g, mixed Isle of Wight cherry tomatoes
mint a handful, chopped
coriander a handful, chopped To serve:
natural yogurt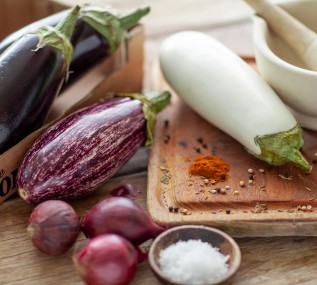 Method
Quarter the aubergines lengthways. Put in a colander over the sink and sprinkle with 1 tsp of salt.

Leave for 20 minutes before squeezing any excess water out of the aubergines. Pat dry with kitchen paper.

Heat a frying pan over a medium heat with the olive oil and fry the red onions for 10 minutes until soft and lightly golden.

Add the garlic and chilli and cook for another 5 minutes.

Add the coriander, cumin, cayenne pepper and tomato purée and cook for 2 minutes, then tip in the chopped tomatoes and water and simmer for 30 minutes.

While the sauce is cooking, heat a griddle pan.

Brush the aubergines and tomatoes with a little olive oil.

Griddle the aubergines and tomatoes and take them off when they are charred. Roughly chop and add to the sauce.

Stir through the herbs, season and serve with yogurt.