Chickpea hummus with Slow Roasted Tomatoes, Chilli & Fennel
5 Minutes
Serves 4
Vegetarian
Ingredients
200g Slow Roasted Tomatoes with Chilli & Fennel
400g can chickpeas, drained and rinsed
4 tbsp. tahini paste
3 tbsp. lemon juice (approx. 1 lemon)
1 fat garlic clove, crushed
1 tbsp. ice cold water
1 tsp. salt
A few crushed dried chillies & fennel seeds to garnish (optional)
Fine sea salt
Pitta bread fingers and vegetable crudités, to serve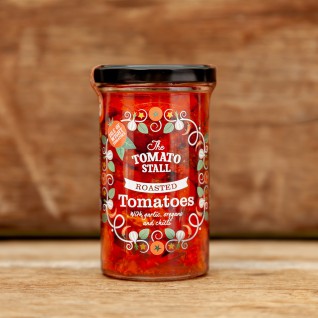 Method
Lift the Slow Roasted Tomatoes out of their oil and leave to drain on kitchen paper. Reserve the infused oil for another dish.
Put the roasted tomatoes, chickpeas, tahini paste, lemon juice, garlic, and 1 teaspoon salt into a food processor and blend together into a paste.
With the machine still running, gradually add 2 tablespoons of the infused oil and 1 tablespoon water and continue to blend until you have a smooth paste.
Adjust the seasoning to taste.
Scoop into a bowl and serve with toasted pitta bread fingers and/or vegetable crudités.